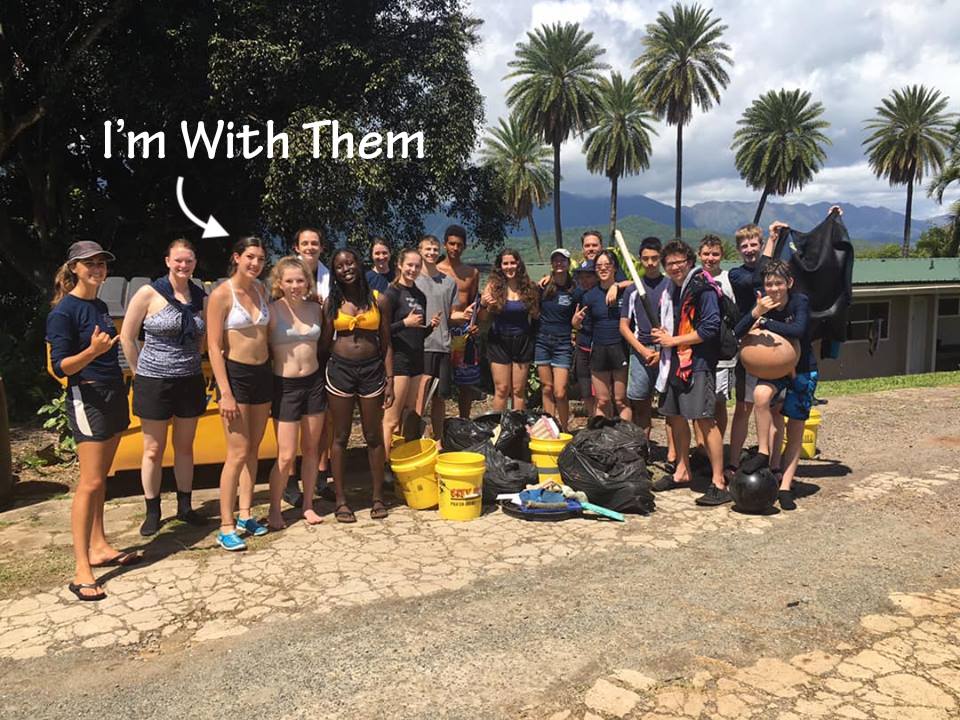 Our Team Ocean Teen Leaders (TOTL) are building a movement for the sea: one person at a time, one action at a time.
Teens who join Ocean Matters for a project in Florida, Hawai'i, or Honduras, are eligible to join our youth leadership council Team Ocean Teen Leaders (TOTL). Through monthly meetings, teens from all over the world work together to create and seed ocean conservation projects of their own design supported by our generous donors. 

This ocean advocacy film was one of the projects the youth completed and released on World Oceans Day to encourage Team Ocean Pledges: small individual acts when combined collectively that have big impacts. 
Watch and share the Team Ocean Teen Leaders film. Hold a watch party and see how many pledges your group can make! And rise like a wave for healthy seas. 
Make Your Own Team Ocean Pledge!
Make your Team Ocean Pledge to actions you commit to do in your own life on behalf of the sea.
Need ideas? Look at "10 Ways to Rise for the Sea" below!!
My Team Ocean Pledge
Thank you for joining with us on behalf of healthy and sustainable seas everywhere.
10 Simple Ways to Rise for the Sea
Stop sucking! If you can skip using plastic straw, please do. 500 million plastic straws are used A DAY across the world and then, simply thrown away. Much of this debris finds its way into the ocean, where they harm seabirds and wildlife, but also break down into dangerous micro plastics that concentrate in our food. Consider instead using a reusable straw. We like the collapsible metal ones that come with pipe cleaners and a clip to your key chain like this one. That way you always have a straw with you. For children, be sure to buy the kind that have a bend in them, however, so that the edges of the metal straw do not inadvertently injure the roof of their mouth. Or consider a bamboo or compostable paper straw.You can take this action one step further by educating others. Simply tell your server, "no plastic straw" or suggest to the restaurants you visit that they ask before assuming a straw is needed.
Commit to sustainable seafood. The Monterey Bay Aquarium has a downloadable app and state specific guides that will help you keep abreast of which choices are the best to make for the ocean and your family at the seafood counter—because healthy seas are important to our own health.
Schedule a home energy audit. Lower your carbon footprint and energy bills by changing lightbulbs, improving weatherstripping, and other simple low cost solutions! Some states, like Massachusetts, offer these audits through utilities for free, so google home energy audit in your area and see what might be available. Here are some great guidelines and online advice for doing an audit yourself, or for engaging a professional.
Engage your family in reducing single-use plastics in your home—one change a time. Here are some tips for a process that is educational, as well as impactful, in enacting sustainable change.
Educate yourself and your friends about climate change! Project Drawdown is a great resource for thinking about how changes we can make now will pay off for a more livable future. Follow them on twitter or simply take a look at their website and the ranked solutions to climate change. We guarantee you'll feel better after reading the list as many of the changes are not only doable, but also carry additional societal benefits.
Rethink transportation! We all are looking for healthier lifestyles. Consider how biking or walking might fit into your daily routines as an added exercise bonus or use public transportation. Small changes can add up. If you are in the market for a new car, consider leasing or owning an Electric Vehicle (EVs). Many states have programs with tax incentives and rebates, which when combined with the lower cost of maintenance and running of the vehicle equal both a savings for your pocketbook and the planet. Learn the latest about EVs here.
Go solar. Imagine how great it would be to rid yourself of your electric bill! Lease or own, because solar can be a no-brainer of a home improvement. 
Schedule a beach or waterway cleanup or participate in one. Whether you live on the coast or not, chances are your waterways eventually lead to the ocean. Cleanups are a great way to meet new friends and engage people in your community in solutions.
Vote with the ocean in mind! Not many politicians talk about ocean policy, which is a problem given how central the health and welfare of the ocean links to our own. The League of Conservation Voters is a great resource for finding out how incumbents have voted on past issues. But nothing beats telling your representatives that healthy oceans are important to you or simply asking politicians running for office to articulate their plan and vision.
Educate your friends and family! As Katherine, one of our Team Ocean Teen Leaders says, "it takes everyone" to make change.
Want to Help Team Ocean Teen Leaders Do Their Important Work?
Donate to our Team Ocean conservation micro-grants fund. We support teens in the communities within which we work and within which they live to become actively engaged in marine conservation with projects of their own design to engage their community! This project mindfully connects young people across watersheds with projects that have an impact. Your donation is tax-deductible to the full extent allowed by law.
Buy a hand-embroidered reusable ocean bag from Ocean Matters Teen Leader Sophie, who is donating all proceeds from the purchases to Ocean Matters.
Host a watch party for the Team Ocean Teen Leaders ocean advocacy film "It Takes Everyone."